The concept of going paper-free is often misunderstood. Many office workers assume that the term "paperless" relates to the complete eradication of paper from all daily tasks, but clearly this is not a practical or viable solution for many companies. To this end, perhaps the true meaning of going paperless is to reduce paper consumption wherever possible, by using it sparingly and only when absolutely required. If organisations can achieve this, they can expect to see a wide range of benefits.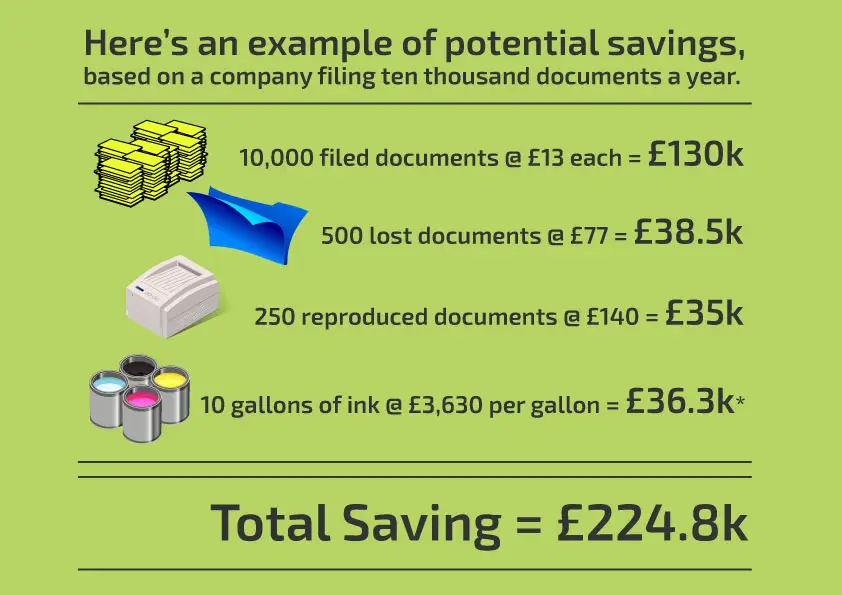 It saves time and hassle
It has been proven time and time again that the act of going paperless saves companies a lot of time and hassle in the long run. At first, the prospect of switching from a paper-based work environment to digital methods may sound like a somewhat complex task, but this is mostly due to the fact that staff will be moving away from familiar (even if unproductive) work processes – or that companies are still unconvinced of the benefits of going paper free. Here are a few interesting statistics via PricewaterhouseCoopers:
Companies spend in labour costs (on average): £13 to file a document, £77 to find a misfiled document, and £140 to reproduce a lost document.
Of all documents, 7.5% get lost; 3% of the remainder get misfiled.
Professionals spend 5–15% of their time reading information, but up to 50% looking for it.
If you calculate this percentage against salaries, clearly much time is being spent searching for paperwork – and in effect, companies could be saving thousands by going digital and making the data more accessible.
Additionally, ink is by far the most expensive liquid held in an average office. According to Techopedia, plain black ink costs an average of £2130 per gallon – put in practical terms; this means that every time something is printed out, it costs a company more than any other office resource – even air conditioning/heating! Naturally, by going paperless, printing costs can be slashed and potentially huge savings can be made.
Applications vary greatly
Paperless processes are being rolled out across many different sectors – and internal applications vary widely depending on the specific requirements of a company. For example; digital software can be used in tax departments to automate the workflow of producing tax returns, tracking the entire process; from the due dates on documents coming in, through the review stage, to final sign-off.
Accounting departments can also make good use of digital technology to significantly improve efficiency rates and enhance internal controls. Companies who use a cloud-based accounting system can attach supporting documents to various transactions i.e. during the accounts payable process, invoices can be scanned in, attached to cheque requests and routed for approval electronically.
Regulatory compliance can also be assured with a secure, web-based system. Companies who routinely send contracts/other documentation out for approval to regulatory bodies are a great example of this. The manual method can be rather time consuming – with reams of paperwork to process, and the likelihood of said paperwork going astray between departments or externally. Digital systems allow for the secure approval of documents online via email or directly to a user's dashboard. Document management systems such as this can also be integrated with accounting systems – letting users find documents and contracts much more easily.
How does going paper-free impact on different businesses?
The act of going paperless will positively impact upon companies in different ways. As an example, in recent years, health care is benefiting substantially from paperless processes – as shown by the ongoing "paperless by 2018" NHS quest. Online systems, accessible via mobile tablets, let healthcare professionals check on patient notes at any time, regardless of their location. Naturally, this means that communications within healthcare practices are improved upon and processes are streamlined.
Digital systems also help with general writing, editing and office work. Using software such as Adobe and Microsoft, end users can quickly and easily mark up documents and add notes, making research, drafting and reviewing a much more efficient process.
Companies who employ out-in-the-field operations are increasingly relying on digital technologies as a way to ensure effective communications between field workers and offices. Tablets and other mobile devices are being used to transmit information quickly and efficiently, regardless of location.
From a construction industry point of view, sustainability is vitally important. Going paper-free allows construction companies to promote themselves as sustainable organisations, rather than thirst hungry resource-heavy companies – and this can often make the difference between winning contracts or not in an increasingly eco-aware society.
Businesses in the property industry can also benefit from going paperless. Many people wrongly assume that the digitisation of data is prohibited by the professional property standards authority RICS – and this simply isn't the case. Records can be scanned in, allowing for easier access without becoming non-conformant to the association or audit.
At Dajon, in addition to supplying a scanning service for a wide range of clients, we also use digital systems for own processes. All of our mail, including invoices, is scanned in and added to an EDM system, then filtered through to the relevant member of staff for processing. As a result, instead of requiring two or three people in our accounts department, we have one, and are able to re-deploy employees from cost centre into profit-generating roles. Naturally, this efficient handling of information saves us time and money and enables us to make the most of our valuable resources.
Learn more about how workflow automation could be a great way to enforce your expertise and bring your business processes to life, freeing up you and your team to be more productive and better prepared.