The Best Solutions
Our Services
We offer seven award-winning services that will transform your business from a paper mess to paperless
About Us
About Dajon Data Management
More than 20 years of experience
Dajon offers a dedicated and personalised approach to archiving needs and bottom-line costs, with a transparent contract minus financial baggage. We provide support to allow for an ongoing efficient and smooth service.
Solutions customised to your organisation
Dajon Industries
Every business is unique and faces challenges depending on the industry it's competing in. That's why your organisation's journey to the digital world should be customised according to your company's needs and goals.
Accounting and Finance
Your accounting department is one of the most document and data-rich environments in your organisation. Without efficient processes in place, it can also become one of the most costly departments, in time, money and resource.
From invoice and purchase order processing to data entry, reduce risk and regain full control of your accounting processes with AP Automation. By managing the way work gets done, AP Automation enables information to be error-free, digitised, findable and readily available, therefore freeing up your accounting team to focus on their key deliverables and improve service levels.
With AP Automation all processes are centrally managed, allowing you to easily adapt the way you work to address threats or opportunities without any additional training or dependency on internal IT. No matter how many invoices your organisation handles, Dajon can help you to reduce the time your processes take, reduce costs and ultimately support you in the growth of your business.
Property Management
Processing the paperwork that goes with managing properties can be a time-consuming headache. Invoice handling, lease, safety certificates and other essential document management can become a full-time job. Yet with the right automated technology and processes, it needn't be.
Automate data entry and streamline your processes so invoices can be routed to the right member of your team at the right time, every time. Reduce errors, digitise your paperwork and ensure all your documents are retrievable instantly by any member of your team.
Get more done in less time. Our business process specialists will work with you to automate your business processes, saving you time and money and freeing your staff up for more productive tasks. Our easy-to-use cloud-based software is accessible on any device at any time, taking the stress out of property management.
Human Resources
Handling all the human resources processes for your company is no easy task. Managing recruitment, on-boarding, performance, pay, pensions and learning and development – to name but a few – creates significant challenge for HR departments. As your organisation grows, standardising and codifying your processes can make it much easier to manage. With the right technology you can get more done, more efficiently, leaving your staff free to focus on high-value activities – not just handling paperwork.
Automate repetitive HR processes like recruitment and on-boarding. Have all your data in one place and enable your organisation to share information across departments with ease.
A new starter request could trigger automated processes both in HR and across the organisation, ensuring everyone is informed and the on-boarding goes as smoothly as possible, without the need for sending dozens of emails.
Automated workflows make it easier for people to do what is needed – for example, setting up their pay details or pension online – and ensures management have control and visibility of important tasks in real-time, wherever they are and on any device they like.
Insurance
Managing all the paperwork which comes with an insurance business can be a labour-intensive task. From handling quotes and no claims discounts to managing claims and renewals, efficient and organised systems and processes can make all the difference.
With the right software you can handle your paperwork with ease with everything instantly available a the click of a button. Our smart routing technology enables each member of your team to get more done in less time. All of which means you can serve your customers better
Automate repetitive processes like renewals and underwriting. Share information with ease across your organisation. Centrally held data with intelligent processes which are designed around your business will make your job more rewarding and improve customer experience.
Automated workflows make life simpler for your staff, people have access to the relevant documents they need to process paperwork. Workflows allow you to determine how you want work to be done and by whom. All the time allowing for flexibility. Busy companies need to reallocate resources to cover holidays, peak business seasons, etc. Dajon's insurance software makes life easier for your staff and gives greater visibility, transparency and control for management.
Legal
Ensuring a focus on billable hours will help you achieve your objectives. Do you have the workflows in place to help your fee earners deliver and focus on client work?
Our document management systems will help you transition to smoother processes, allowing you to get more done and enabling your team to focus where they really make a difference – serving your clients better. Whether you simply want to organise your paper flow or move to a fully automated paperless office, we can help you transition smoothly and seamlessly, providing a better experience for your clients and your staff.
Across Organisation
One system which hosts all your business processes across your entire organisation makes it easier to share data, to help your employees make decisions based on accurate and timely information. Total flexibility and the control you need. With Dajon you can scale up as it suits you, confident you will have a robust and compatible solution to benefit your business and your customers.
Business flows better when we all share the same system and data. Staff have access to accurate information and this gives them the confidence to do their jobs well, customer questions are answered quickly.
Leading organisations look to developments in IT as a competitive advantage and use them to work better and provide a smoother service to their customers. Learn how you could benefit too.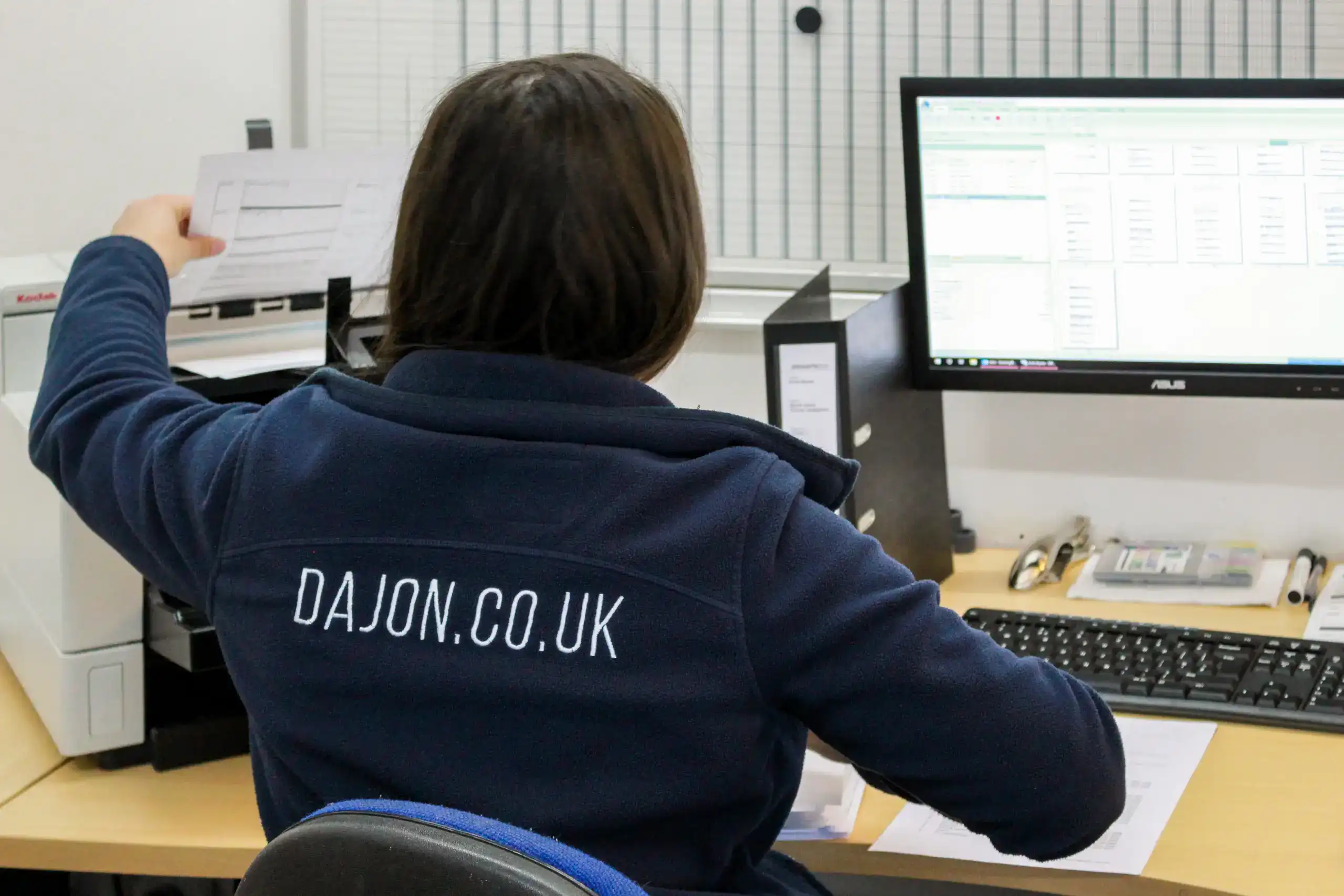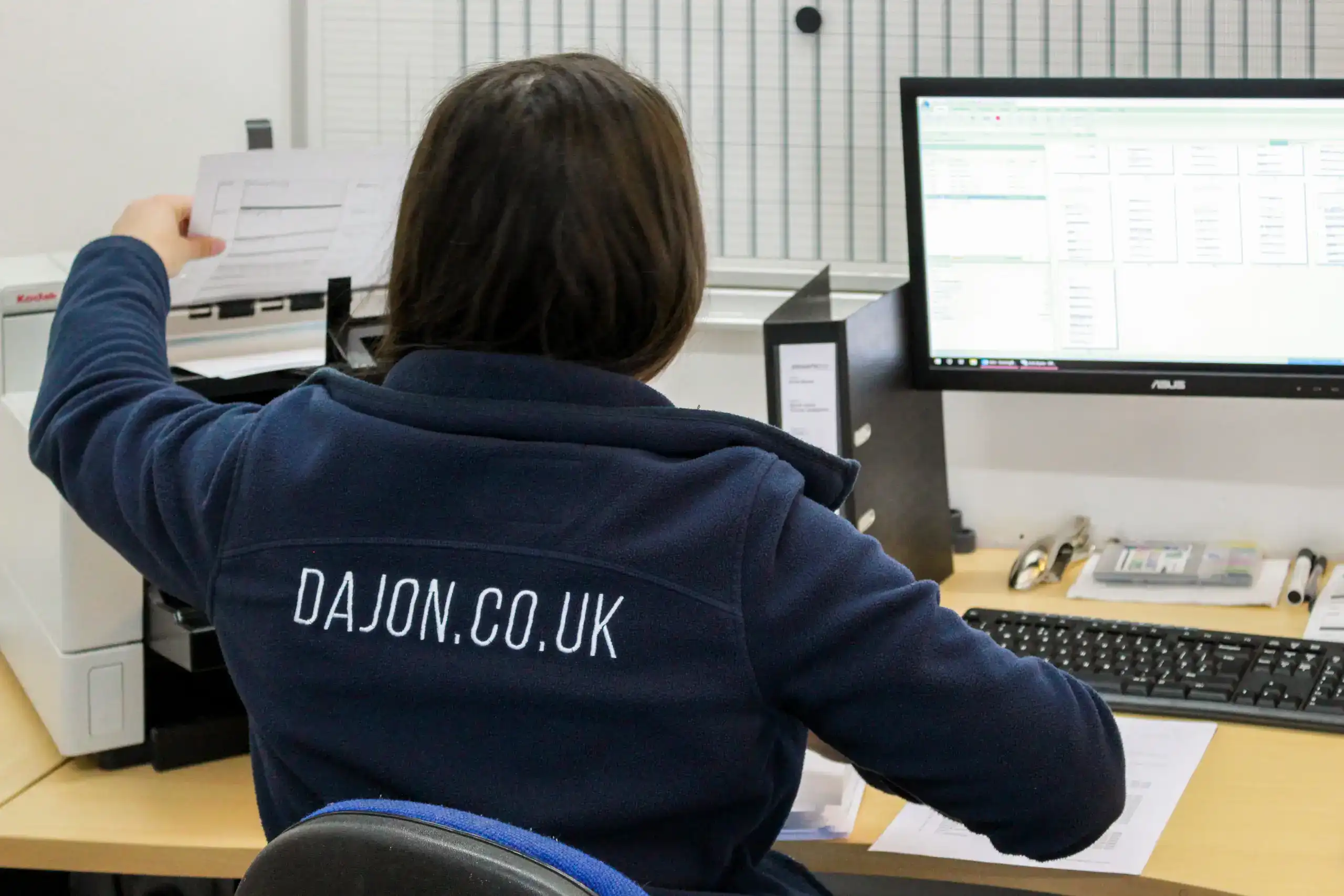 From day one, we have found Dajon extremely helpful, courteous and understanding of our requirements. Their account managers are very efficient and, from my point of view, it's enormously gratifying to know that our critical data is in such safe and knowledgeable hands. On the whole, the service we have received since we changed our provider has been nothing short of faultless.

Kriss Ingram, Senior Operations Specialist at CivicArtsSenior Operations Specialist at CivicArts
For many years now Dajon have been storing our files in archive boxes, saving us valuable storage space and keeping our records secure. Referencing and archiving each document for storage is a mammoth task, which would have taken key people away from more pressing work. A very big thank you to Dajon! Dajon provided us with the perfect cost effective solution by scanning masses of our valuable documents. We have been delighted to find that files, records and even bound reports have been comprehensively and accurately captured electronically. Dajon's scanning has saved us storage space, time and costs.

J. Sidhu, Director at Corporate Risk Associates Ltd
Dajon have handled our survey scanning for three years now. We have major clients who expect a fast, efficient turnaround and Dajon have never let us down.

R. Thornham, Director at Pulse Check Limited