Offsite Media and Tape Storage
Online and offsite backup for total security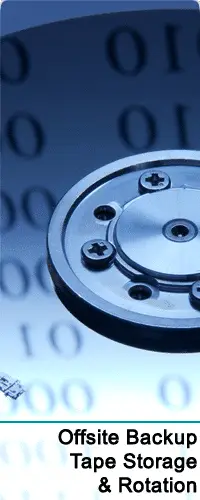 Business critical data is often a company's most valuable asset, and failure to protect it can have extremely damaging consequences, both financially and legally.
There are numerous threats to company data, from incidents like fire, flooding and theft, to digital threats like computer viruses, hacking and power cuts.
Without regular data backup, you leave your company in an extremely vulnerable position. Government figures show that seven in ten firms that suffer a major loss of data go out of business within 18 months.
Dajon Data Management provides both online and offsite backup tape storage solutions to provide you with total peace of mind, strengthening your disaster recovery strategies and bolstering your defences against data loss.
We can store your files electronically on our secure servers, and we also offer environmentally-controlled magnetic media tape backup storage in our offsite facilities.
Contact us to discuss your requirements
Online Backup Services
Online backup is the most efficient way of protecting your business critical data. It provides you with excellent flexibility and ensures that data is always available whenever you need access to it.
You may have all your files stored electronically on your own onsite servers, but what if you suffer a major computer crash? What if an employee accidentally deletes a key document?
Dajon Data Management provides secure and robust online backup solutions for all your digital files within our electronic document management systems, so you won't be left high and dry.
We do not simply offer you a replicated database of your documents. Instead we provide total web access to your online data, which means you can get to the information you need, when you need it, in just a few clicks.
Offsite Backup Tape Storage Solutions
If your business critical data is backed up online, you might not see the need for offsite backup as well. But media tapes are still the most reliable form of data backup around.
For example, in the event of a major power cut, during which access to online files is restricted, media tapes could prove invaluable and help you continue trading as normal.
Dajon Data Management provides offsite media and tape storage in environmentally controlled conditions using industry-leading bar-coding and electronic tracking software.
Tapes are carried in virtually indestructible cases, protecting them from all manner of threats, and our data storage facilities are video monitored 24 hours a day.
Rapid Retrieval and Automated Data Rotation
In an emergency, we can have your tapes with you in a guaranteed two hours, and electronic tracking devices allow you to track the progress of your delivery.
Dajon Data Management also works closely with you to understand your data backup rotation needs, providing a bespoke automated rotation service that lets you get on with the day-to-day running of your business.
We provide you with your own operational account manager who will collect and backup your tapes on a daily, weekly or monthly basis, depending on your requirements.
Online and Offsite Backup from Dajon Data Management
At Dajon Data Management, we can provide you with bespoke online and offsite backup solutions to meet your needs, whether you're a small firm making your way in the business world or a large multinational organisation.
We offer a complete data management solution, which includes document scanning and document storage to help you create a robust and efficient business continuity and recovery strategy and reduce your reliance on paper.
We can also work with you to make sure you're compliant with data protection regulations and that you're meeting other legal responsibilities.
Click here for more information about magnetic tape data
Data Protection Solutions
The importance of protecting the ever increasing data is becoming more and more important and challenging as we enter an age where there are threats from every avenue.
Computer Hacking and Viruses.
Fire through internal or external forces.
Flooding through environmental hazards or burst water pipes.
Terrorism and Global Warming.
Place of work being quarantined due to Epidemics or Pandemics.
The way in which this data is protected must be suitable and scalable for future requirements. That is why at Dajon we offer a variety of solutions to help protect your Business critical Data for the future.
Online Backup and Restore
Rapid Recovery of Critical Business Systems
Business Continuity and Disaster Recovery Plans
Contact us to discuss your online and offsite backup requirements
Call us on 020 7732 3223 or fill in the contact form below