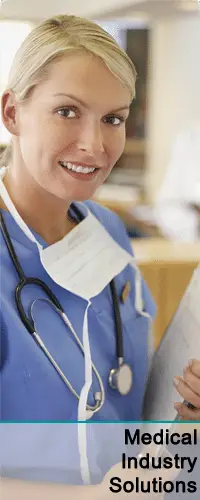 Specialist Medical Records Storage
Medical records storage requires specialist capabilities. Responsibility for the safe storage of medical records in the UK resides with the NHS and other associated bodies. However, under recent regulation it is patients that ultimately "own" the information stored and recorded in the medical records. Therefore, safe and controlled access with a clear audit trail of access to this personal and confidential data, is essential in order to ensure compliance and maintain the integrity and confidentiality of the patient-doctor relationship.
At Dajon we provide a specialist service built on over ten year's experience, we store medical records along with other sensitive documentation such as legal and commercial. Our services are ideally placed to support the compliance needs of medical records storage. Built on robust processes and systems.
Strong Security is essential for the storage of medical records
Our facilities have secure high perimeter fencing. This ensures that we control access to and from the medical records storage facility. Only authorised personnel have access to the records store.
We operate our own fleet of vans and all the drivers are employed by the company we do not use outside agencies. This means that the medical records are always in the hands of Dajon employees once they have left the client site.
All of our records storage premises are secured with a sophisticated intruder alarm system. Each facility has a gas fire suppression system. This is preferred to a water-based suppression system to prevent water damage in the event of an incident or a false alarm. The medical records stored are therefore protected from the risks typically associated with a water-based suppression system.
Where needed we can scan the original medical records and store the original copies securely minimising the need for access to the physical document. We can advise you on the best method of storage based on your document size, type and access needs.
Dajon is also a signatory to the data protection act and all employees are fully briefed on their own and the companies responsibilities concerning the protection of personal third party data such as patient medical records.
Secure medical records storage systems allow for the tracking of patient files online
Each box of medical records in storage is labelled individually with a unique bar-code to identify the location of the box in our database.
You can access your database detailing all the boxes held in storage and their history. We can provide access to the records in storage for retrieval and any updates; we can also provide digital images of the records online. These priced service options ensure our records storage service is highly flexible.
Summary Features for Medical Record Storage
Our contracts are straight forward and easy to understand:
We do not apply permanent removal fees for removing medical records from storage
There is no restriction applied to minimum invoice values for medical records storage
Dajon manage the entire process from end-to-end, including collection, of medical records retrieval/update, storage and scanning if required
We can use space-saving technology to reduce the amount of storage space required to store the medical records
Take a more detailed look our our document storage propostion.