Our data capture proposition is ideally suited for outsourcing or out-tasking an end-to-end business process, such as:
Invoice processing
Digital mailroom
Survey processing
Forms processing, e.g. credit application forms
Claims handling
Our data capture services combine a number of our core competencies to deliver end-to-end document processing and data capture solutions.
The Paperless Office
Free White Paper
The concept of the paperless office was formed some time ago, however, it has taken a while for the majority of companies to get onboard. In this white paper, we explore the many benefits associated with making the digital switch.
The Royal Society of Chemistry
Case Study
The Royal Society of Chemistry (RSC) had collected 378 boxes – equating to around 1 million pages – of irreplaceable historical paperwork. Dajon stepped in to digitise the irreplaceable documents and provide a robust centralised online system.
Secure data capture facilities for processing documents
Dajon has a number of secure data capture and processing facilities both in the UK and abroad. This allows documentation to be delivered cost-effectively using local facilities to process both sensitive and personal documentation. These facilities all conform to Dajons high operational standards.
Our data capture processes and systems are built with security and confidentiality in mind so that we can manage even the most sensitive of personal and confidential data. Dajon is uniquely positioned to deliver a complete data capture solution, from the collection, processing and data conversion, combining our expertise, world-class facilities and technology including high-quality scanners and data capture software.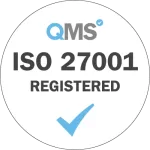 We are ISO27001 certified. ISO27001 is the international standard describing best practice for an Information Security Management System, often shortened to 'ISMS'.
An Information Security Management System (ISMS) is "part of the overall management system, based on a business risk approach, to establish, implement, monitor, review, maintain and improve information security. The management system includes organisational structure, policies, planning activities, responsibilities, practices, processes and resources" (ISO/IEC 27000:2012).
An ISMS is a systematic approach to managing confidential or sensitive corporate information so that it remains secure (i.e. available, confidential and with its integrity intact). It encompasses people, processes and IT systems, in recognition that information security is not just about anti-virus software, implementing the latest firewall or locking down your laptops or web servers. The overall approach to information security should be strategic as well as operational, and different security initiatives should be prioritised, integrated and cross-referenced to ensure overall effectiveness.
A complete data capture solution
As part of our data capture solutions, we can provide an online document management tool, accessible over the Internet via a browser. This simplifies the deployment and keeps implementation costs down.
Once processed the original documents can be stored in one of our long-term storage facilities if there is either a practical or regulatory need to retain the original documents.
The system can be easily configured using in-built workflow to replicate your business processes. Security is built-in, each user can be assigned permissions to control who has access to the data along with an audit trail of who has accessed and changed the documentation.
Trusted to deliver by organisations worldwide
All our data capture facilities are equipped with the latest scanning technology to support highspeed bulk scanning or processing of documents. We use a number of data capture methods or techniques ranging from automatic data capture through to single-page manual data capture or data entry.
Document scanning and Optical Character Recognition (OCR)
During the scanning or processing of a document, we can use high-speed OCR to provide automatic data capture, this keeps costs low. However, significant preparation and thought needs to be given to the form design to maximise quality, keep errors low in order to sustain a low cost in terms of processing.
Data entry and verification
Our data capture services are designed to enable us to support data entry services in English, and other languages, including Japanese, Chinese, and French.
Data output
Dajon's data capture team includes experienced developers this means we can provide the data in most common formats either online via a download or via CD.